CONFERENCE PAPER
Development of the congenital heart disease surgeries in Kyrgyzstan
Article Summary
DOI: 10.24969/hvt.2019.121

Page(s): 69-72

Cardiac Surgery
Published: 16/04/2019

Received: 15/04/2019

Accepted: 16/04/2019
Views: 2893

Downloads: 3129
Keywords: congenital heart disease, cardiac surgery procedures
PDF
PRINT VERSION
Comments
Address for Correspondence
Address for Correspondence: Samidin E. Shabyraliev, Department of Surgery of Congenital Heart Diseases, Scientific Research Institute of Heart Surgery and Organs Transplantation, Bishkek, Kyrgyzstan
---
---
Samidin E. Shabyraliev, Ulan E. Turusbekov, Nurkan O. Rayapov, Emil J. Muraliev
Department of Surgery of Congenital Heart Diseases, SRI of Heart Surgery and Organs Transplantation
Abstract
This article describes development of congenital heart disease surgery in Kyrgzstan.
Key words: congenital heart disease, cardiac surgery procedures
The history of development of congenital heart diseases surgery (CHD) in Kyrgyzstan and overall in cardiac surgery is associated with the name of academician Isa Konoevich Akhunbaev. The first CHD operation was patent ductus arteriosus (PDA) ligation performed by the academician in 1962 (Table 1). In addition, the first cardiac operation using cardiac-pulmonary bypass (CPB) was CHD surgery when atrial septal defect repair was conducted by academician V.I.Burakovsky from the Academy of Medical Sciences of the Soviet Union (AMS of USSR) together with Isa Akhunbaev from the Academy of Sciences of the Kyrgyz Socialist Republic (AS of KSR) in 1964. From 1964 to 1975 Akhunbayev together with his students conducted 34 CHD surgeries on CPB and 10 operations for valvular surgery.
Table 1. Initially conducted operations

1959

Closed mitral commissurotomy (finger)

Akhunbaev I.K.

1962

PDA ligation

Akhunbaev I.K.

1964

Pericardectomy

Akhunbaev I.K.

1964

Cardiac catheterization

Savranova T.D.

1964

ASD repair using CPB

Burakovsky V.I.

1971

Waterston-Cooley anastomosis

Akhunbaev I.K.

1972

Closed mitral commissurotomy (instrumental)

Akhunbaev I.K.

1972

Pulmonary artery valvular repair

Akhunbaev I.K.

1973

VSD repair

Akhunbaev I.K.

1973

ASD repair

Akhunbaev I.K.

1973

Mitral valve replacement (MVR)

Akhunbaev I.K.

1974

MVR+ tricuspid valve repair

Akhunbaev I.K.

1975

Pacemaker implantation

Djoshibaev S.D.

The cardiac surgery department with 50 beds was established in 1976 at the Republican Clinical Hospital (RCH). From 1975 to 1985 the team of the Republican Center of Cardiac Surgery managed to perform 370 operations using CPB for various forms of CHD. Due to insufficiency of appropriate equipment and limited diagnostics, only children with CHD weighing more than 15 kg were subjected to surgical treatment under CPB conditions.
In 1985 Department of Cardiac Surgery of the RCH was transferred to the Scientific Research Institute of Cardiology (SRI of Cardiology, currently: National Center of Cardiology and Internal medicine) by the decree of the Ministry of Health. The specialized Department of Congenital Heart Disease Surgery with 20 beds was established in 1986. Enhancement of diagnostic capabilities, surgical techniques and postoperative care between 1986 to 1990 led to the improvement of surgical interventions both in quality and quantity. In terms of the quantity and volume of surgical interventions for CHD between 1986 to 1990 the Department of Congenital Heart Disease Surgery (#2 department of Cardiac Surgery) of SRI Cardiology was ranked as one of the best departments in the Soviet Union. In 2004, Cardiac Surgical Care was separated from the National Center of Cardiology and Internal Medicine, and the Scientific-Research Institute for Heart Surgery and Organ Transplantation (SRIHSOT) was established by decree of the Government. On the basis of the newly established institute the Department of Surgery for Congenital Heart Diseases (DSCHD) was established with 20 beds.
From 2000 development of pediatric cardiac surgery boosted: surgeons were trained in internships, in specializations abroad and in our country performing various operations for CHD. As a result, we can see decrease in postoperative mortality, increase in quantity and volume of operations and an active implementation of Western technology in the domestic cardiac surgery (Fig. 1).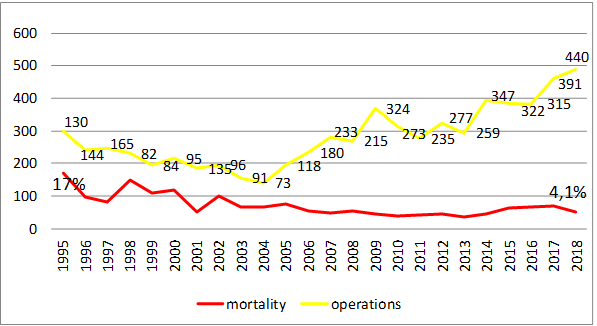 Figure 1. Dynamics of increase in the quantity of operations and reduction of mortality
As can be seen from the presented diagram below, the dynamic growth of the total number of operations is accompanied by an increase in the number of patients with complex congenital heart defects and children with lower weight.
Surgery of complex CHD and children under a year and neonates in our center began to develop in 2006. After the training of operational personnel and obtaining of appropriate equipment and consumables, surgery for CHD initialized in 2011 for children under a year and with a lower weight (Fig. 2).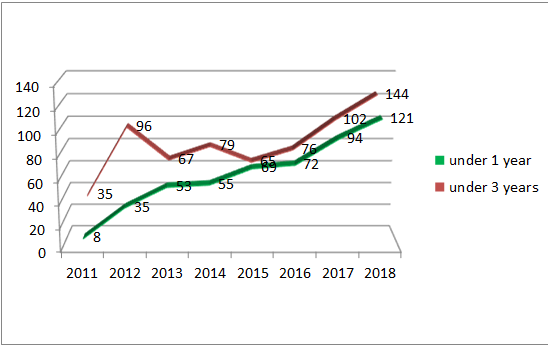 Figure 2. Number of congenital heart surgeries in children <3 and <1 years old for the period of 2011-2018
From year to year, the amount of surgical care provided to newborns with CHD increases. Surgical interventions for complex congenital heart defects are being developed. Methods for the pre-and postoperative management of patients with complicated high pulmonary hypertension were developed and implemented.
Currently in DSCHD more than 20 types of operations for complex CHD surgeries are being introduced into clinical practice (Table 2). Moreover, operations are carried out annually with foreign colleagues. The qualification of the staff in operating children with a lower weight is increasing.
Peer-review: internal
Conflict of interest: None to declare Authorship: S.E.Sh., U.E.T., N.O.R., E.J.M. equally
contributed to the study and preparation of manuscript
Acknowledgement and funding: None to declare
Table 2. New types of operations

1

DORV radical correction

2003

2

RV-PA conduit implantation in ToF with ALCAPA (Rastelli operation)

2003

3

RVOT reconstruction without VSD closure

2003

4

Off-pump Glenn operation

2005

5

BCPS (bilateral cava-pulmonary shunting)

2006

6

Arterial switch operation

2006

7

Radical correction of I-II Type PA with VSD

2006

8

Transannular PA repair with monoleaflet patch from Glisson capsule

2006

9

Mustard operation

2007

10

Rastelli operation in TGA with PS

2007

11

Muller's procedure

2007

12

Neonatal cardiac surgery

2007

13

One and half ventricle correction in Ebstein's anomaly and hypoplastic RV

2007

14

Radical correction of ToF with left pulmonary artery agenesia

2008

15

Pulmonary artery bioprosthetic replacement in ToF

2009

16

MAPCA unifocalization in IV type PA

2009

17

Lymphatic stimulation in severe pulmonary hypertension

2010

18

Anomalous return of VC correction

2011

19

Fontan operation with intraatrial tunneling

2011

20

Fontan operation with extracardiac conduit implantation

2012

21

Double-patch VSD repair in severe pulmonary hypertension

2015

22

Le Compte procedure for truncus arteriosus

2015

23

Ebstein's anomaly radical correction by Carpentier

2015

24

IVS septation in single ventricle

2017

25

Ozaki operation

2018
.